My 5 Favourite Early Years Themes. 
Is your favourite theme in my top 5?
I link my music activities each half term to popular topic/themes; it works really well for my music times.   Many early years settings link their daily activities to themes, topics and events.  If you do this do you also link your music time activities to this too? Whether you do or not at the moment it is really worth considering. I have around 12 topics that I use but I'm going to share with you my 5 favourites.
Animals
I think the animal theme is the most versatile in a music time as you can: make animals noises both with voices and instruments; move like animals to recorded and percussion instruments; sing songs and say rhymes about animals.  The theme inspired me to write a song called the 'Animal Stomp' where the children explore tempo (speed) through movement as we sing the song.
Travel and Transport
I especially like this topic because of the different music that has been written around the theme.  In the listening part of my music time we listen to a variety of musical genres from classical train music to the disco song Car Wash.  In the Car Wash activity, the children always enjoy moving their pom-poms to the music whilst the bubbles are blown; it's great fun!
Colours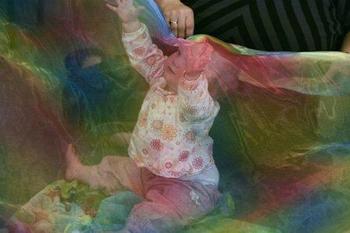 I usually do the Colour topic on the run up to Christmas.  We do a different colour each week and the weeks just before Christmas are gold and silver; these link well with tinsel and baubles.  We also sing about decorating the tree with different coloured decorations.
I love singing the rainbow song to the children as I float my rainbow voile over the top of them.  When I have finished singing I always ask them to tell me what colours they can see shimmering.
Food
This topic/theme lends itself to using all the senses; in my parent and child classes the children also had the opportunity to taste!  We sing and say lots of songs and rhymes about food.  The listening part is linked to food by listening to and exploring foods from different countries.  The children usual smell, touch, look at, taste (if appropriate) different foods whilst listening to music from that country. They then sometimes do a response to music afterwards.
Weather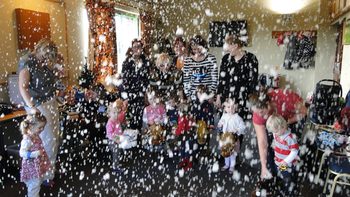 I encourage the children to really use their imagination when we do this topic; I use lots of resources to help. We sing different weather songs and rhymes.  Where the children use their imagination most is when they are listening to music.  The resources that I use to help are: umbrellas, fabrics, bubbles, sometimes a snow machine, projector, parachutes…
I really do enjoy making my music times creative for the children.

 
If you are looking for musical inspiration for one of my 5 favourite topics listed above or for another popular topic then please take a look at my online resource site: Early Years Music Ideas.  I have uploaded activity plans, help videos and MP3s of the songs and rhymes that I use in my classes plus other ideas that I have created for the resource. 
Happy music making!