My 5 favourite props to use during a Music Time
My 5 favourite props to use during a music time are...
Puppets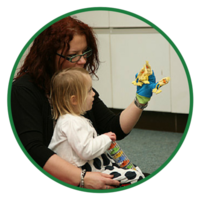 Puppets are great for getting children to interact with songs and rhymes.  Song mitts (as in the picture) are good for counting rhymes as the children can see the character/object disappear as you are counting down or up.  Finger puppets allow you to play 'peek a boo' musical games and are smaller enough for the children to move during listening activities.  Hand puppets when used by an adult are big enough for everyone to see and are brilliant for use during call and response singing activities.
Fabrics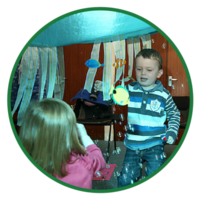 I use many different types of printed image fabrics: sand, sea, leaves, snow... and also fabrics with sensory elements attached.  Some of them are used to float above the children's head whereas others rest on the ground.  They are used to help children imagine they are in particular place when singing or listening to music. They definitely bring many smiles to the children's faces!  
Lights
There are lots of different types of light source that can be used with the children: fibre optics, projectors, torches, lights in fabrics... (all under the guidance of adults).  When I use a 'light focus' with the children we turn off the main lights as this enables us to enjoy and concentrate on just the 'light focus'.  Again I use these with songs and listening activities. 
Bubbles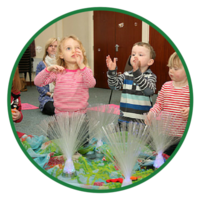 I believe that bubbles are the children's favourite.  Sometimes I use these in songs where the children need to anticipate when I'm going to blow them.  Other times I will use them with other props when listening to music.  For example when we listen to 'Under the Sea', from the Little Mermaid, I use a floating fishy fabric and blow bubbles underneath for the children to look at. 
Stretchy fabric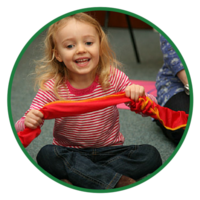 I use Lycra and a friendship ring (shown in the picture, like a big hair scrunchie).  They are particularly good if you want the children to do a rowing or pulling movement in a song.  It allows everyone to work together.  It is particularly helpful for those children who need a little more help as they can see and feel the movement that they need to be doing. If you would like to learn more about using Lycra and friendship ring, please take a look at my online training Parachute, Lycra and Friendship Ring online training: https://www.musicintheearlyyears.com/parachute-lycra-and-friendship-ring 
I use these in all sorts of different activities from singing to listening to music.  Why? Because it brings the whole Music Time to life.  It makes each session an engaging, fun and memorable experience for everyone involved. 
Go and look in your cupboard and see what props you could use in your Music Time.
Happy music making!
Anne :)